We all want to look healthy – a healthy life is a happy life! But sometimes, due to our busy schedule, we cannot go to the gym and many times we are too lazy to leave the comfort of our homes and go out in the morning. Trying to lose weight was the number one priority for people when making their New Year's resolutions, according to a 2020 study.
No more excuses. We have created an exercise regimen that you can do at home to quickly and effectively say goodbye to the stubborn belly pooch that you always wish you never had.
Perform these exercises using ON and OFF intervals: ON for 20 seconds and OFF for 10 seconds. Repeat each exercise for 8 rounds. Then take a break for a minute. After the break, move on to the next exercise.
How to Get Rid of Lower Belly Fat
5 Jumping Jacks + 1 Burpee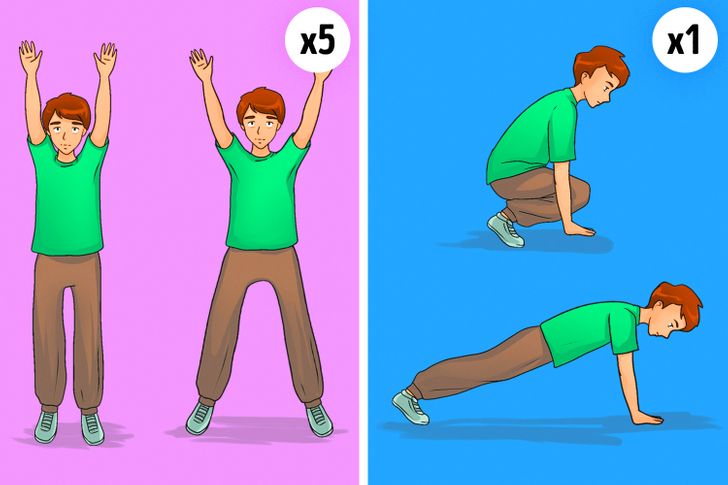 Begin to do jumps by standing up straight. Raise your arms above your head and jump feet apart during the jump. Run 5 times.
Now is the time for the burpee. Bend your back, place your palms on the floor, and lower yourself to the ground. Then jump up and move your feet back to get into the push-up position. Now jump up and move your feet inward. Do it once and shift to doing jumping jacks.
4 Mountain Climbers + 2 Sit-throughs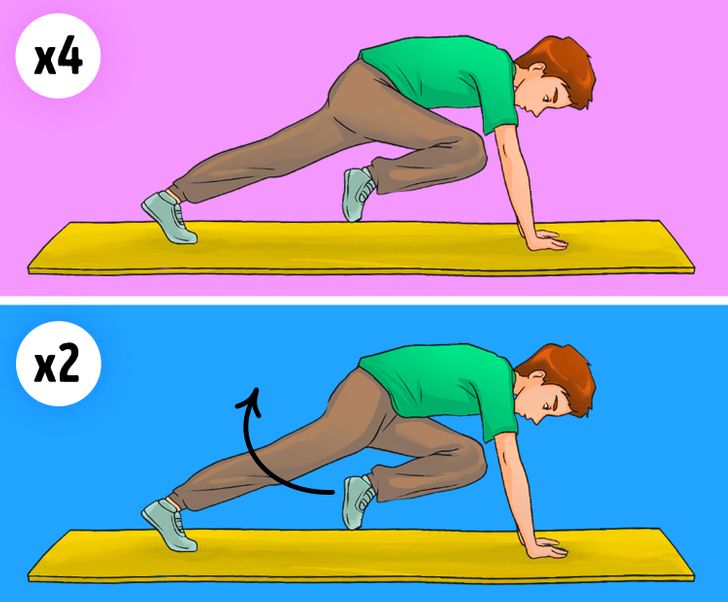 Start by climbing mountains. Begin by getting into the plank position. Raise one knee toward your waist. Try to raise your knee as high as it can comfortably be.
Repeat the action with the other knee. Each jump counts as one. Do this 4 times.
Now shift to doing sit-throughs. To do this, get into the push-up position. Raise your right hand and left leg off the ground. Bring your right hand to your head and kick with your left leg.
During the course of this movement, rotate your body and hips so that your butt can touch the floor. Now go back to the push-up position. Repeat with the left hand and the right leg. Perform it twice and switch to doing mountain climbers.
Plyo Step-ups
To perform plyometric climbs, you need a low-height chair. Start with one foot on the chair. Put your weight on that foot and jump. When jumping, switch feet so the other foot is on the chair. Keep doing this back and forth for 8 rounds.
Push-ups
Lie down with your toes on the floor and support yourself with your hands. Keeping your elbows close to your body, lower your torso to the ground so that your elbows are at a 90-degree angle.
Elevate your body by pushing the floor away from you. Repeat this process 8 times.
2 Split Squat Jumps + 1 Burpee
Start standing up and jump into the lunge position. Make sure your front knee is off your toes. Then jump up and switch your front and back feet. Do it twice and proceed to the burpee.
Toe Taps
A ball is required for this exercise. To start, place one toe on the ball, jump, and alternate between kicking one foot and the other on top of the ball.
When are you going to start doing this? Let us know in the comments below.