According to studies, approximately 25% of adults are affected by varicose veins. These swollen, purple, or bluish veins can be the result of prolonged standing, pregnancy, hormonal imbalance, excess weight, nutritional deficiencies, or genetic factors.
It is important to treat even minor symptoms of varicose veins before they are accompanied by pain, heaviness, and itching. Some of the ingredients that can be easily found in your kitchen can be excellent remedies for strengthening blood vessel walls and improving blood circulation.
We presents 5 simple but effective methods to treat and prevent the progression of varicose veins.
Home Remedies For Varicose Veins
Apple Cider Vinegar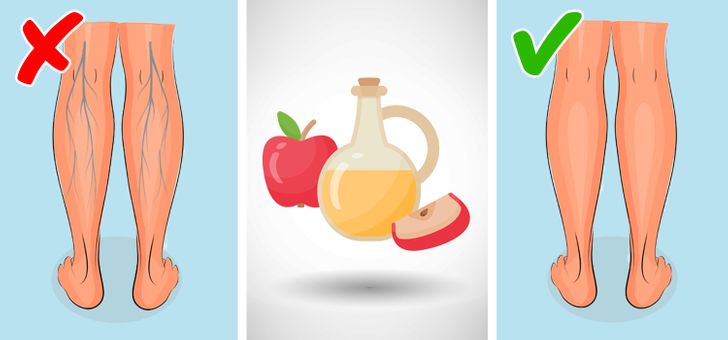 Thanks to its anti-inflammatory properties, apple cider vinegar is an excellent treatment for spider veins. Helps decrease swelling and improve blood flow.
Dip a cotton ball or cloth in apple cider vinegar diluted in the same amount of water. Place it on the affected veins and let it act for 20 to 30 minutes. Rinse with water. Repeat the procedure twice a day.
You can also apply cider vinegar to the skin and gently massage the area. Do this every day before bed and again the next morning until you see positive results. Just avoid applying too much pressure when massaging the areas.
Garlic, Orange Juice, And Olive Oil
Garlic contains a compound called allicin, which helps prevent inflammation of the blood vessels. It is also used to remove harmful toxins from the body and improve overall health. Garlic works wonders in combination with orange juice and olive oil.
Crush 6 cloves of garlic and mix with the freshly squeezed juice of 3 oranges. Add 2 tablespoons of oil to the solution. Let it sit for about 12 hours before using it.
Apply the mixture on the veins for about 15 minutes in circular motions until it is completely absorbed into the skin. Repeat this every day.
You can also wrap the area with a cloth and let it sit for 15 minutes to reduce the size of the veins. It is also recommended to regularly include garlic in your diet.
Parsley
This is one of the most beneficial natural products for the treatment of varicose veins. Parsley contains vitamin C and rutin that help restore and strengthen capillaries, thus reducing pain and discomfort caused by varicose veins.
Chop a handful of parsley and place it in a glass of water. Boil for 5 to 7 minutes and cool. Add a little essential oil. Dip a cotton ball in it and apply it to the affected areas.
Do this twice a day until you no longer see the blue and red lines on your legs. Try to make it a habit to add parsley to your food to boost your immune system.
Witch Hazel
Witch hazel can be one of the best alternatives for treating various skin conditions, including inflamed veins. Contains tannins and volatile oils that help restore the structure of the veins.
Take a piece of cloth or a cotton ball and dip it in witch hazel. Place it on the affected area for 10 to 15 minutes. Repeat 2 or 3 times a day for a month until you notice positive results.
Cabbage
Cabbage leaves are an excellent source of vitamins, fiber, magnesium, calcium, and potassium, which are very beneficial for health. These highly nutritious components can also reduce vein swelling.
Chop the cabbage leaves and blend in a blender. Add a little water to make a fine paste. Apply the paste to the swollen areas.
Cover these parts with a cotton cloth and leave for 2 hours. Wash them with water. Repeat the process for a month.
Which of these tips will you try? Do you know of other effective ways to treat varicose veins? Share them with us in the comments!