Promising, healthy foods are on the rise and more popular than ever. Advertising geniuses work their magic to make us believe that the products we buy are good for us. But some of the so-called healthy foods do more harm than good.
We decided to find out which healthy foods are not as innocent as we might think. How many of them do you eat every day as part of your healthy diet?
Fruit Juice
That fruit juice box we all love is not made from fruits, just delicious chemicals that provide the perfect fruit color and flavor. Basically, we are drinking some sugar-flavored fruity water.
Even if you juice yourself from 100% fresh ingredients, it is still not that healthy because you removed all the good stuff (fibers). The only thing left is sugar. Unless you want to gain weight, opt for fruit.
Granola Bars
It doesn't matter if your favorite granola bar snack has nuts and fruits or is high in fiber. Most are high in sugar and surprisingly low in nutrients. If you are looking for a truly healthy snack, choose apples or almonds (the raw ones!).
Baked Beans
Beans are great because they are rich in fiber. In addition, they are an incredible source of plant protein. Not so much for the baked beans.
Your favorite can is just a mixture of beans, sugar, sodium, and other additives. Avoid unnecessary calories and boil beans at home.
Pretzels
Pretzels, the all-time healthy snack praised by millions around the world as a solid, low-fat crunch, end up having no nutritional value.
They also have high levels of sodium and almost no protein. If the urge is that strong, you can occasionally combine pretzels with foods high in protein and fiber (low-fat cheese or an apple).
Veggie Chips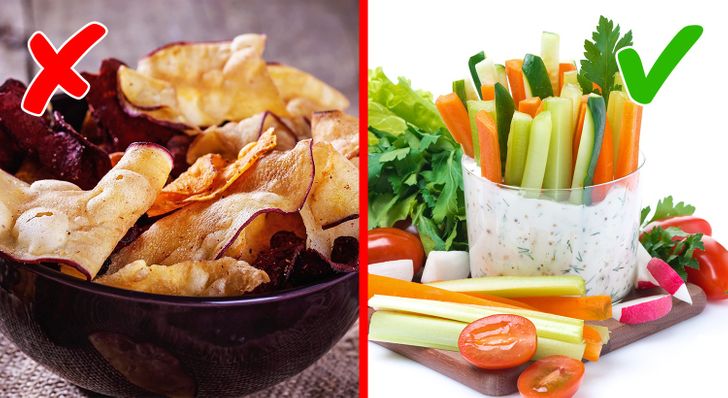 Don't be surprised to find that the true vegetarian on a vegetarian chip is so small, thin, and highly processed (either cooked or fried) that its nutritional value just disappears. Go for raw vegetables!
Processed "Fat-free" And "Low-fat" Foods
Saturated fat was touted as an enemy, and food manufacturers were quick to eliminate it from their products.
The problem is that food doesn't taste good when the fat is removed, so the manufacturers came up with a simple solution: add more sugar. Saturated fat is relatively harmless, but sugar is not.
Rice Crackers
Fluffy, airy rice cakes are the number one choice for millions of people who are trying to lose some weight.
These not-so-innocent cookies are lacking in fiber and protein and are considered a high-carb snack (a high ratio of carbohydrates compared to their weight). Basically, you add calories without feeling satisfied.
Which of these do you consume on a daily basis? Share with us in the comments!