Correct posture ensures good health, gives you confidence and helps you look slimmer. Yet despite all these benefits, most of us keep stooping, especially when sitting at the computer.
We want to show you 10 simple exercises and tricks that will help you keep your back straight and thus maintain it.
Exercises For A Straight Back
The Greeting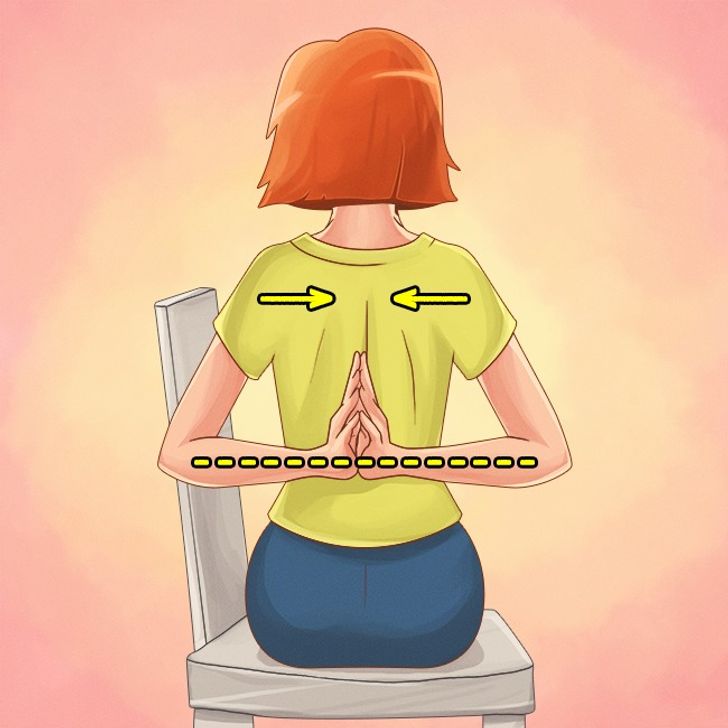 Place your hands behind your back and connect your palms as shown in the image above. It is important to make a straight line with your arms from one elbow to the other.
Your shoulder blades should move towards each other. Hold this position for 10 seconds.
The Lock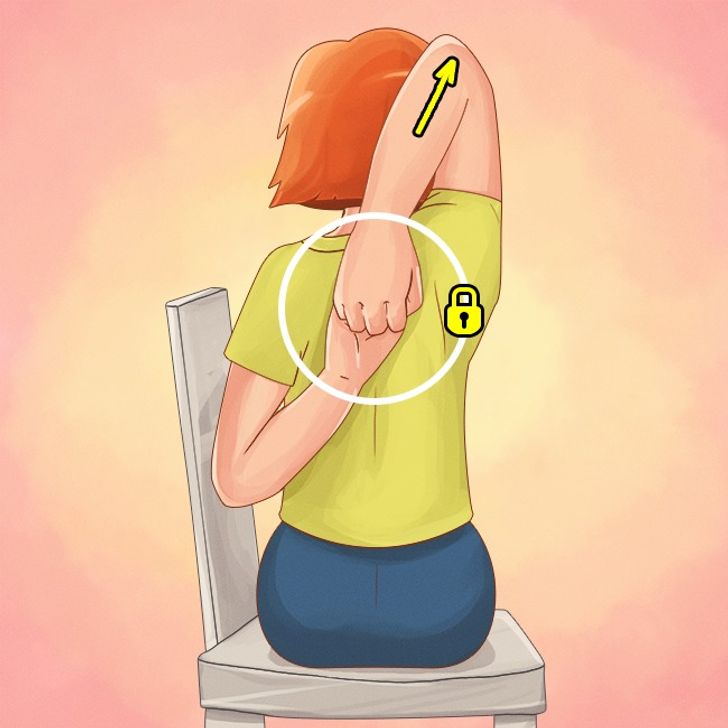 Put one arm behind your back. Pick up the other and place it close to the shoulder blades bent at the elbow. Squeeze your hands together and pull your elbow up. Change hands after 5 seconds.
Twists
Without moving your lower body, place your hands behind your head and turn your upper torso to the left so that your shoulders are at right angles to the back of the chair.
Hold this position for 5 seconds and turn right.
Curves
Sit on the edge of a chair and put your arms behind your head. Bend at the spine and look at the ceiling. Slowly pull your head back, still looking up, until it touches the back of the chair.
How To Keep Your Posture
Holding Your Abs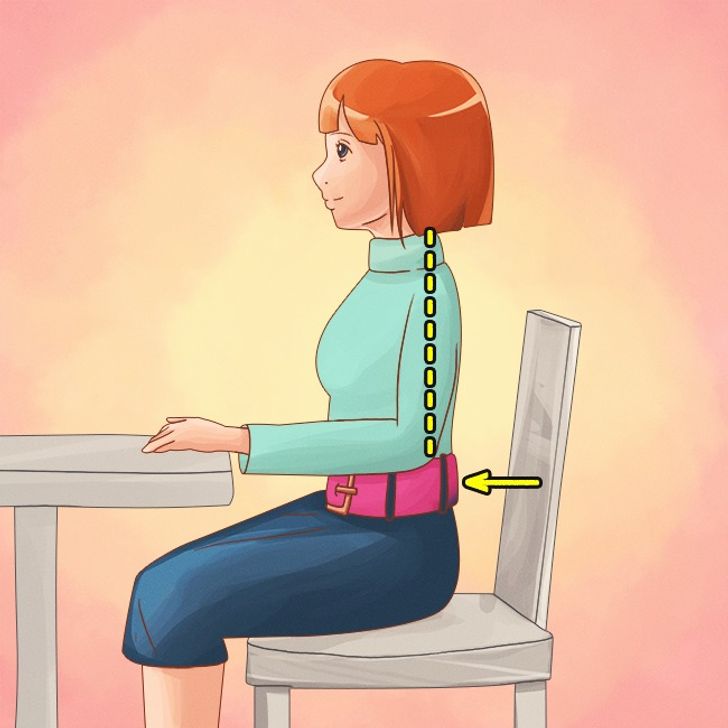 The posture is held by the back and the abdominal muscles in equal measure. When you keep your abdomen tight, your back straightens.
A wide belt, high-waisted skirt, or pants will help keep your abdominal muscles in the correct tone.
A Special Pose
Sit on the edge of a chair, tuck one leg under the chair as far as it will go, and straighten the other. This pose will help you sit upright for balance. Sit in this position after doing any exercise.
Back weight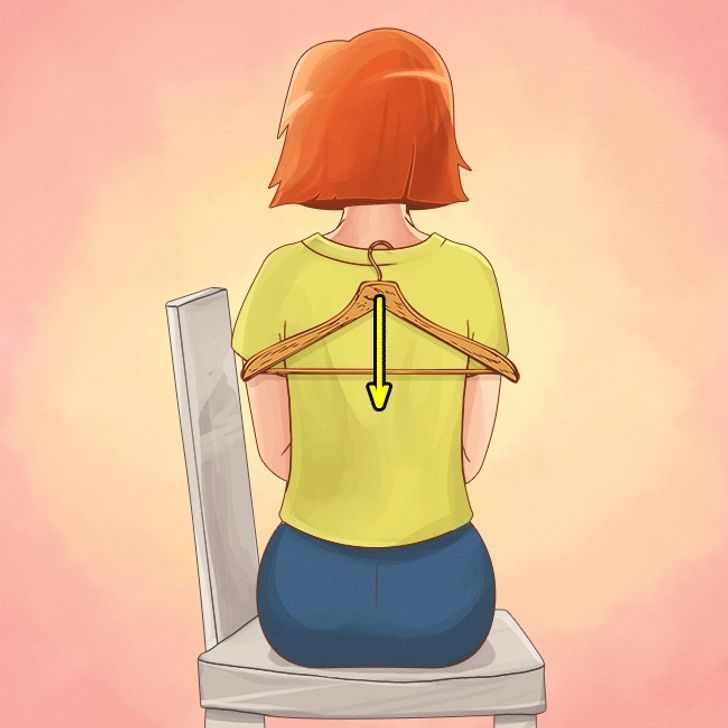 When working on a computer, hang something on your back to pull it back, keeping it straight. A simple hanger will work just fine.
Chest Weight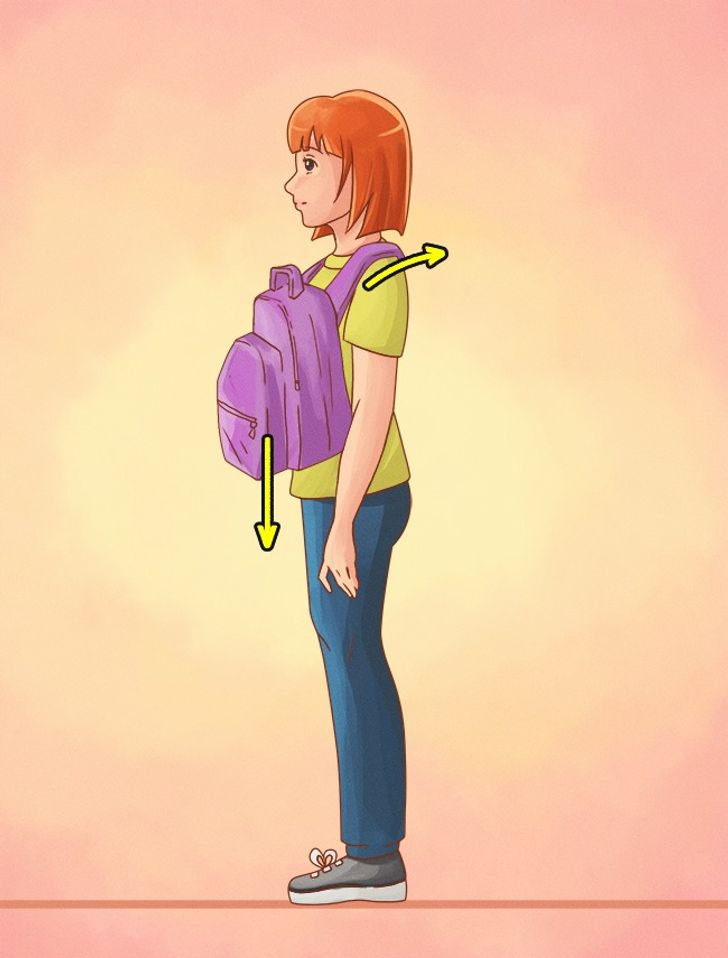 When doing household chores, hang a heavy backpack in front of you. Your body will try to support the weight and will pull your shoulders back for balance.
Finally, all these recommendations are short-term: they have an almost immediate effect that does not last long. For best results, do the exercises above regularly, adding as many as you find.
You must also remember:
Your posture depends not only on your muscles but also on the condition of your teeth, including occlusion. Exercises may be insufficient to get rid of an addiction.
Pay attention to your dental occlusion and see your dentist solve the problem under professional supervision.
Do not forget the importance of a substantial intake of vitamins and calcium, which will help you take care of your bones and muscles. Simple remedies can improve your health.
The best recipes will contain:
Milk and dairy products
Fruits and vegetables rich in magnesium and potassium
Whole grains and nuts
Omega-3 Rich Foods
Preview photo credit depositphotos
Based on materials from dailyhealthpost, smashingtops, huffingtonpost